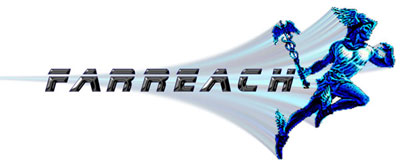 High Speed Internet
Access For the Daytona Beach Area
Far Reach provides high speed broadband wireless internet access
You don't have to be an engineer to understand how our Wireless service works. We install a small antenna (usually a small box about the size of a child's lunch pail) at our customer's location and point it towards one of our access point locations. Our access point locations connect to our high-speed backbone that has multiple redundant high-speed connections to the Internet. Depending on the customer's situation, we either install a radio network card in her/his computer, or install a firewall/network gateway radio that allows her/his entire network to be on the Internet at the same time. The radio card/gateway is connected to the small antenna and instantly the customer has a broadband, high-speed dedicated network connection!
Why should I use Far Reach?
You should use Far Reach if you want a dedicated, always-on, high-speed, high-bandwidth broadband connection. With Far Reach you no longer need

phone lines, we bypass the decaying phone system by making a direct link to our high-speed network. In fact,

High Speed connections of 3 – 5 mbs for home and business use to full T-1 access.
Free: Web Site
Domain Name
Unlimited email addresses (you@yourdomain.com)
Areas of coverage
Daytona Beach Shores,
Daytona Beach - east of Seagrave
South Daytona
Port Orange
Oceans West Condominium,
Ocean View Condominium, and
Nautilus Condominium

now have high speed access.
Please fill the form out below
so we can contact you
and install your service.
Click here for price and requirements.

These services will be provided only to businesses and condominiums not residential households at this time.

These services do not require cable modems, xDSL modems or a phone line. It uses regular Ethernet cards (also known as network cards) for your access into the Internet.

For people not familiar with cable modems (also known as Internet cable in which the modem connects to the same cable as your cable TV), cable modems require Ethernet cards to connect to your computer. Most new computers come with an Ethernet card.

NOTE: If your building cannot accommodate extra wiring, then the alternative will be wireless network cards.

What is an Ethernet card, cable modem, or xDSL modem?
What is the price of these items?
Click here to learn.

Condominiums with the highest requests will have first priority.

Register below so we know who you are and where you are at.
Realacom's Home Page
Inquiries to highspeed@realacom.com

©1999 Realacom
No information may be quoted or published or printed
without the written permission of both
Realacom
and
Advanced Satellite & Cable Systems, Inc.